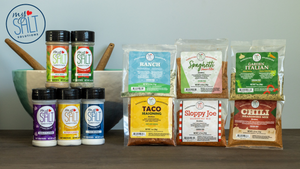 MySALT Salt Substitute
MySALT Is 100% Sodium Free Yet It Tastes Like Salt Without the Bitter Aftertaste Other Salt Substitutes Have. Sprinkle Over Food or Add to Your Recipes. It's Ingredients Are Essential Nutrients Your Body Needs.
The Signature Seasoning Mix Packets Bring Flavor and Convenience into Your Low Sodium Lifestyle. They Are All Made with Sodium Free MySALT.